The Spirit of Christmas! Recap Of CIM Marathon
I love December!! I love the spirit of Christmas and spending time with my family… even when we fight (which is a lot-especially with the girls 😂). In the month of December, we do an activity every night pertaining to the holidays. It's been a fun tradition and as my girls get older, they are having more fun with it.
Dec 1st: Christmas activity- We put up the Christmas Tree and decorated our house.
Dec 2nd: Christmas activity- FHE (family home evening) and drawing names between the girls for Christmas.
Dec 3rd: Christmas activity- Writing letters to neighbors and delivering them.
I had an easy 6 mile run today. It felt nice.
Dec 4th: Christmas activity- Make count down necklaces. My mother-in-law is taking our girls this weekend so corom and I can go with the high school cross country team to California. So she will continue the Christmas activities.
I had a 2 mile warmup, 3 mile tempo run at marathon pace, 2 mile cool down. That afternoon, Corom and I left on a Charter bus with the HS XC team (a few other coaches, the neighboring HS & their team, and chaperones) to Southern California for a race at Mt. Sac college- Footlocker.
It was quite the drive but they were a fun bunch to drive down with.
Dec 5th: Christmas activity- making soap for friend gifts.
I stayed at the hotel all day, while Corom and the other coaches went to Disneyland with the HS kids. I was sad to miss out but it was nice to be able to relax before my race. I did get an easy 5 miles in. I love taper week. 😊 At Disneyland, corom and Chad (one of the other coaches) did have a few issues-kids losing their Disney tickets, etc., but nothing to bad.
I do feel somewhat bad because my girls have never been to Disneyland… we would much rather spend our money on taking trips around the U.S. and different countries. I just told them to join the XC team. 😂
Dec 6th: Christmas activity- watch a Christmas movie
After a short 5 mile run with strides for me…
We (the HS XC kids, coaches and I) loaded up on the bus and headed for the beach. It was a very nice morning and the weather was great… the afternoon it began to rain just a little before we were about to leave.
After we picked up their race bibs, went back to the hotel and went out for dinner.
Dec 7th: Christmas activity- make gingerbread houses at grandma's house.
We watched some of the HS kids races, then corom and I left Southern California. We went to the packet pickup expo, then headed to my brother in laws house (Jarom).
Dec 8th: Christmas activity- make cookies and bring them to G-goats neighbors. Corom and I came home tonight so the girls sang and delivered cookies to g-goats (Sarah's- their grandma) neighbors. Then brought the extra home for some of our neighbors.
I raced the CIM marathon and then we drove home (after a short visit with Corom's brother, Jarom). It was a nice drive. Corom and I had a great, long and much needed talk with the 2 of us and with no interruptions.
Dec 9th: Christmas activity- went to the elementary school for a movie night with treats.
It was kind of an emotional day for me. I was so happy about my race but sad at the same time. It was nice not having to get up and run, though. I subbed at the girl's school today, in my 3rd daughters class. There are a few kids in that class that makes it so hard at times. And it didn't help that I was tired.
Dec 10: Christmas activity- shop for secret sister and elementary school choir concert.
Dec 11: Christmas activity- make a Christmas craft and bring them to the neighbors.
Dec 12: Christmas activity- Christmas story and hot chocolate (but the girls were fighting so much that they didn't get hot chocolate).
Running:
I got back into training today. I'm going to run Houston marathon to give it one more shot for the Olympic trials. Here's to another intense 5 weeks. 😁
Dec 13: Christmas activity- Christmas movie and neighbor gift exchange.
Dec 14: Christmas activity- ice skating.
Dec 15: Christmas activity- old folks home. I did have to warn my kids and mainly corom the night before on this activity. The girls are pretty good about going but corom has a hard time with this activity. Today went really well! And I don't know if it's because my girls are getting older but we had longer visits with the residents and better interactions. The Barney's came with us again this year.
Dec 16: Christmas activity- Christmas dinner and orchestra recital.
Dec 17: Christmas activity- leave a treat for the mail lady and garbage man and deliver neighbor treats. Piano recital!
My 3 younger girls are in piano… 2 out of the 3 don't like it. But I'm hoping they will change their mind once they start to learn more. My oldest is in art so she does not have to take piano.
My oldest (13 years old) drew this picture in about an hour. My kids are obsessed with The Hunger Games. I have been reading to them almost every night and they love it. It has been a great way to get them to go to bed on time and for us to read them the scriptures (Book of Mormon) and have them listen (or at least pretend to listen). 😂
Dec 18: Christmas activity- drive around salem pond and look at the lights. My oldest and I had to work at the Clarion, so we missed out on this activity. (I worked a lot this month at the clarion… mostly during the day).
After the pond, Corom and the 4 girls went to the high school Christmas performance (my oldest was able to go to that)… I stayed at work a little longer. We served an event that day for 400+ people.
Dec 19: Christmas activity- Christmas craft. Parties in their classrooms.
Dec 20: Christmas activity- serve neighbors.
Dec 21: Christmas activity- see Santa!
Dec 22: Christmas activity- Christmas movie
Dec 23: Christmas activity- sledding and a Christmas get together at the Black's. Well we didn't go sledding because there wasn't enough snow! The girls did go over to our neighbor's house for a Christmas party. The neighbors are so good to my kids!
Dec 24: Christmas activity- Greek dinner and pass around. I love making and eating Greek food (well eating it at least)! My sister and her family came over and my mother-in-law and Gary came for dinner. We did a pass around gift right after. Then it was cookies and milk out for Santa and then bed time.
Dec 25: Christmas Day- gift to Jesus (our gift to our Savior this year is having positivity in our home). I don't write about it often but with Corom, he suffers from depression and just having really low days and extremely high days with his moods. I know with him being a social worker at the school has been a huge blessing for him and for the school kids. He can relate and understands and knows how to help. He has been so good with what he has to deal with (and has the right medication). Anyway… so we are going to work on positivity in our home this year and hopefully less fighting between the sisters!! 😂 The girls play so well together and it's so fun, but they also fight really well! 🙄
The girls could not come out of their rooms until 7:45 this morning. At the beginning of December we start the time at 6 a.m. for getting up for presents. If they fight, it goes up 15 min. If they are nice and help each other out, it goes down 15… well 7:45 it was. I loved it! 😂
We had a very nice morning and a lazy day! I did go out at about 1 p.m. for an easy 8 miles. It was beautiful out today. So many things to be grateful for. I love my family and my Savior!
For the rest of the break we didn't do to much. Corom worked on our shed out in our backyard for the most part of the time. We are turning it into a craft/art room for the girls. We did go to the movies, had another friends gift exchange (with this group we always get together after Christmas… lots of pranks, funny/shady gifts, and dropping off junk on you lawns 😂) and ice skating again (with the Thompson's) but other than that… just neighbor kids in and out of the house.
New Year's Eve:
I had a hard workout today! 19 miles worth of a speed workout. I was glad when it was over! The girls had a few friends over and we celebrated New Year's with New York's time (2 hours ahead of us). It worked great. The kids had fun and then all the friends went home by 10:15-10:30. We watched a movie as a family until midnight and then went to bed shortly after that. Oh and of course, Corom had to light off a few fireworks, etc.
Polar Plunge on New Year's Day:
I did start off the New Years with a 8 mile east run. It was great but the roads were snowy and slippery. Corom and his friends started a polar plunge tradition in our city about 5 years ago. Every year more and more people jump in. This year, Corom led a group on a 1.1k run and then jumped in right after. My 3 younger girls jumped in with Corom, as my oldest and I watched. 😂
My 3rd daughter stepped on something in the pond and almost needed stitches. Good thing Mike was around to come check it out!
A few random pictures throughout the month of December:
I saw this write up on me in a little news article called "The Stable":
JEN'S HEARTBREAKING 3 MIN PB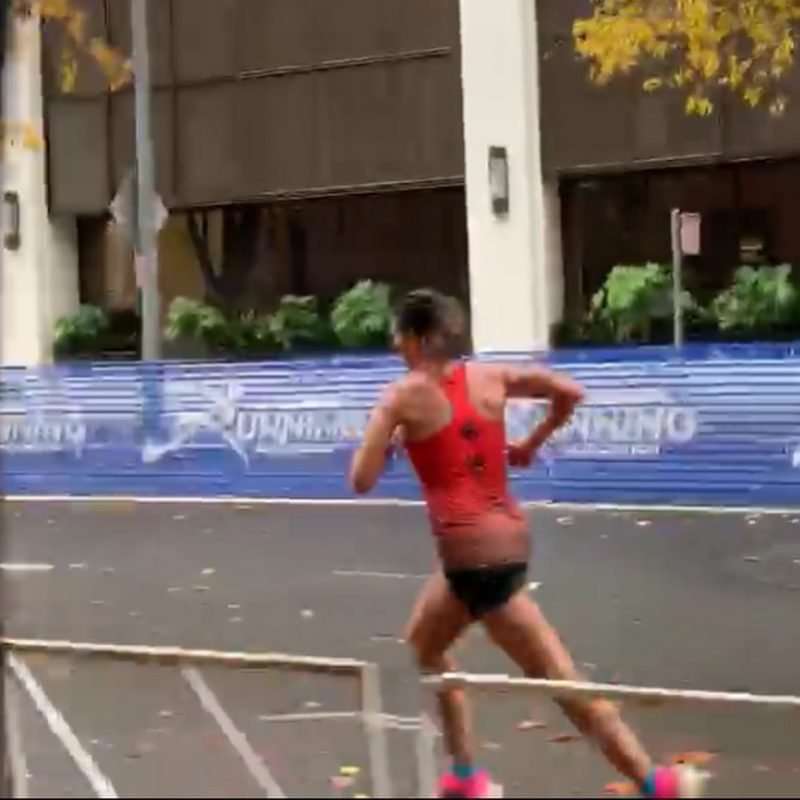 Jennifer Hughes ran a heartbreakingly brilliant 3 minute PB in Sunday's California international Marathon.
Hughes reduced her PB from 2:48 down to 2:45:28, just missing out on the US Olympic Trials Qualifier by 28 seconds.
With half a mile to go in the race, Hughes was on for 2:44:44 but in the final half mile, Lady Marathon swiped the legs from under our Jen.
 "…my legs just felt like lead! I really could not get my legs to  turnover the last 800," Jen told The Stable News.
In The Stazza's Stable Strava Group, Jen explained the bitter/sweet nature of her PB: "Thanks so much John!! You are truly amazing and I had that 2:48 time 4 years ago. I started a little over a year with you with a 2:50:45 time… you helped me get 5+ min off since I started with you. So thank you!! Bitter/sweet today."
Stablemate, Jason The Yoof Cisney captured the excitement in real time as he followed the race on the live tracker and posted in The Stazza's Stable Strava Group: "Savannah picking it up! Jennifer gonna be real close…Man that's tough for Jen…to be so close for so long. Very solid efforts all around….That last 400m must be a tough stretch. Looks like people lose a lot of time there."
Jen also took to Facebook to share her thoughts and thanks: "Well another great opportunity to be resilient… I'm not giving up on another marathon race that I missed my time!! I was 28 seconds off qualifying for the Olympic trials. Bitter sweet today (more bitter than sweet )… I did shave 3 min off my previous best. Hopefully, next time I will be crying for joy.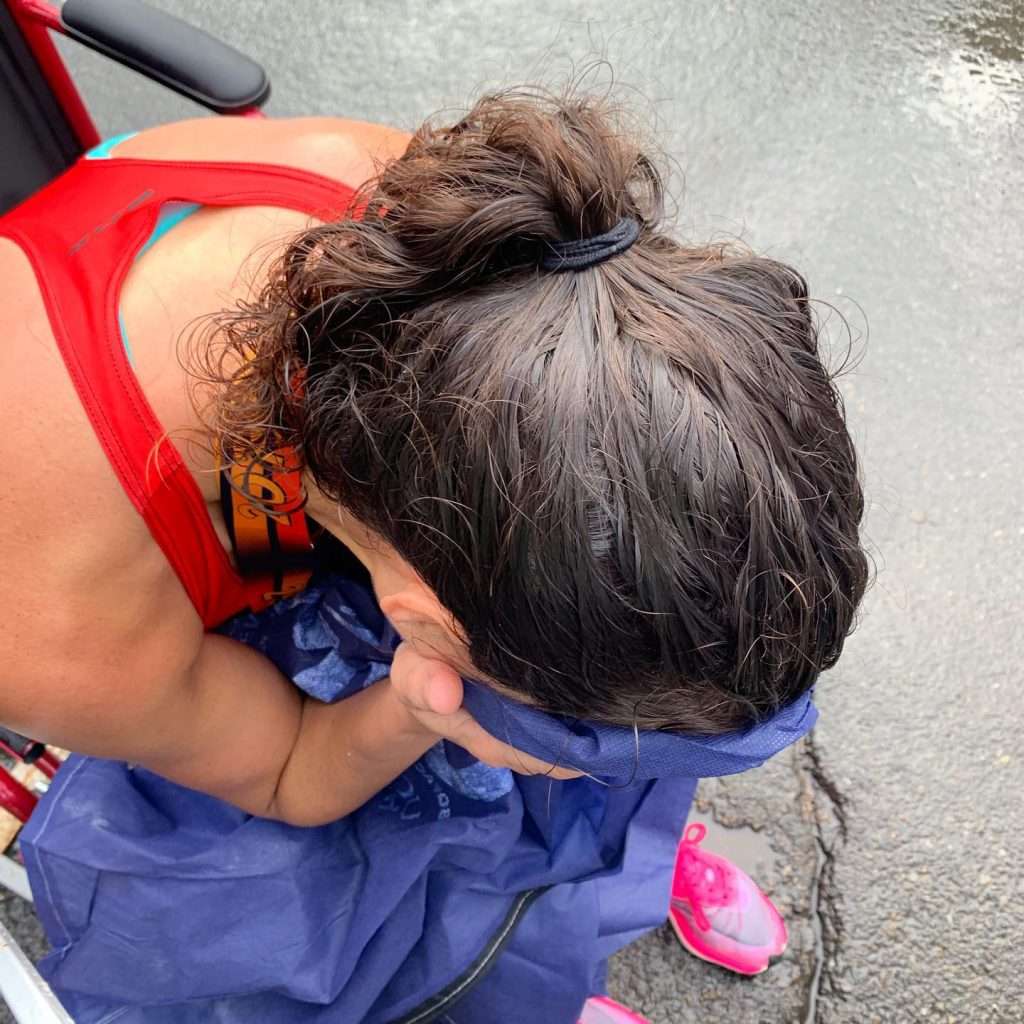 BITTER/SWEET TEARS:Jen's bitter/sweet PB hits home
But here we go for 1 more shot in Houston. It's a good thing I like running. Thanks John Stazza for coaching me. Thanks Sarah for taking the girls again. Thanks Corom for supporting me. And thanks to everyone else(running friends, the kids I coach, neighbors and family)."
Jen will now have a few days rest and then get ready for the Houston Marathon where she hopes to give The Lady Marathon a slap and knock off those 28 seconds or so, to get the OTQ.